Luxury Yacht Charter in Dodecanese Islands
The Dodecanese islands are made up of 12 main islands in the Greek Archipelago, the principal of which are Astypalaia, Kalymnos, Kos, Leros, Nysiros, Patmos, Rhodes, and Symi. The Dodecanese islands provide something for everyone, from the dry limestone outcrops and traditional Greek towns of Kalymnos or Symi that are scattered with a plethora of imposing Venetian castles and Byzantine monasteries, or the pulsing centers of Rhodes and Kos. What's more, there are over 150 smaller islands, of which only 26 are inhabited, providing a wealth of interesting areas and destinations to sail around on your luxury yacht charter. The islands of the Dodecanese sea offer small ports, and many little anchorages and bays accessible only by sea and yacht. When you picture the dazzling islands of Greece, you think of crystal clear blue waters and stunning sandy beaches. A yacht charter in the Dodecanese Islands will give you this. Charter a yacht in the Dodecanese and explore the transparent turquoise waters, remote coves, secret locations, and traditional restaurants for tantalizing Greek delicacies, or revel in the idyllic vistas from the comforts of your luxury crewed yacht. The Dodecanese represents a fantastic Greece yacht charter holiday destination!
TYPICAL 7 DAYS ITINERARY
⚓
DAY
 1
: Rhodes

- Symi (Overnight)
Symi - The most picturesque and charming island
Explore Symi on a luxury yacht charter in Dodecanese islands. Symi is a Dodecanese island close to Turkey and has long been a tourist destination for yacht charters due to its coastal beauty and quaintness. Stretching over 84 kilometers, the coastline of Symi is sublime. Perfect for sailing, this tranquil island is full of secluded coves and rocky bays, some of which are only accessible by yacht. Brightly colored houses cover the hillsides to the shores, which makes a breathtaking introduction as guests disembark from the yacht at the port of Ano Symi. Nanou Beach and St. Nicholas beach, are surrounded by impressive pale rock formations that create private spots for sunbathing beside clear turquoise water. With a handful of chic restaurants and elegant bars, Symi makes for exciting nightlife.
⚓
DAY
 2
: Symi

- Kos (Overnight)
Kos - The island of Hippocrates
Explore Kos with a yacht charter in Dodecanese islands. Kos is one of the largest and most popular yacht charter destinations on the Dodecanese islands. A true Mediterranean oasis both for history enthusiasts and adventure seekers. Its vast vegetation, the mild climate, Aegean-blue waters, and never-ending coastlines form a scenery of extraordinary beauty, ideal for yacht vacations. Featuring crystal clear waters and unique heritage, on your luxury yacht charter, you will be able to escape from the crowds and appreciate the undeniable beauty of this island from the comfort of your luxury yacht. Widely known since antiquity as the motherland of Hippocrates, father of modern medicine, Kos is often described as an open-air museum as it features dozens of entrance-free archeological sites. The impressive architecture and landmarks narrate the island's course through time, while its multicultural identity is also evident through the archeological remains dotted across the island. Look out for Nerantziá Castle at the entrance of the port of Kos Town before heading out and anchoring off one of the many secluded bays and coves dotted along the coast. Matsichari, Kefalos, and Thermes are three must-see beaches to anchor off, enjoy watersports and sink into golden sands. With a wide variety of clubs and bars, Kos is an idyllic island for those looking to taste the cosmopolitan lifestyle and experience the vibrant nightlife.
⚓
DAY
 3
: Kos

- Kalymnos (Overnight)
Kalymnos - The island of the sea sponge harvesters
Explore Kalymnos on a luxury yacht charter in Dodecanese. Kalymnos is the third most populous island in the Dodecanese group. Chartering a yacht in the Dodecanese is the ideal way to explore the hidden beauty of Kalymnos, and its unique coastline which spans a length of 96 km. Known as the island of the sea sponge harvesters this diverse island is a great stop on your luxury yacht charter. Póthia, the capital and the port of Kalymnos is a favored first stop for charterers with the castle of Chrissoheria and the Archaeological Museum worth a visit. Exploring its natural wonders like the caves and hot therapeutic springs is the best thing to do while on Kalymnos island. The picturesque mountainous landscapes, the clear blue seas, and the hospitality of the locals make Kalymnos one of the best yacht charter destinations in Dodecanese. The most popular beaches you can swim in Kalymnos are Mirties, Panormos, and Ormos Akri. Aside from these beaches, there are some coves and inlets on this island that are very secluded and accessible by yacht. Finally, don't forget to taste some of the local delicacies on your time ashore. There are many traditional restaurants and cafe houses on the island where you can taste local food.
⚓
DAY
 4
: Kalymnos

- Leros (Overnight)
Leros - A Dodecanese gem with Italian influences
Yacht Charter in Dodecanese and Leros island. If you are looking to get away from the crowds and find complete serenity on your luxury yacht charter, Leros island is the place to go. The capital is Aghia Marina, the old port, built amphitheatrically on a hillside and is crowned by a Franco-Byzantine fortress. According to mythology, Leros is the island of Artemis, the goddess of forests and hunting, and the pristine beauty on offer reflects this. Leros has many natural attractions, picturesque coasts and beaches, traditional houses, historical and archaeological monuments, and above all, the hospitality of its people. One of the biggest features of Leros is the Knights of Saint John castle. This castle and the surrounding area will give you a taste of what life was like in the middle ages in Greece. Admire the magnificent castles such as Brouzi and Castle of Panayia or the ancient churches scattered all over the island. Swim in the azure waters, the many deep indented bays that are ideal for mooring, diving, and exploring the many shipwrecks on the seabed since the Second World War. Nightlife in Leros, with other commercial islands, is based on dining in small Greek seaside restaurants with traditional greek music.
⚓
DAY
 5
: Leros

- Nisyros (Overnight)
Nisyros - An island with unspoiled charm and a secluded location
Luxury Yacht Charter Dodecanese and Nisyros island. Nisyros is a volcanic island located in the Aegean Sea in the middle of the Dodecanese group of islands. It is a place of wild beauty without crowds of tourists and is a haven of peace and tranquillity to complement your yacht charter. Mandraki the capital and port of Nisyros, is more a big village than a small town. Above Mandraki, the high rock with the castle of Spiliani that was previously owned by the Ioannite Knights protrudes, the impressive Mycenaean-era acropolis, has restored 4th-century Cyclopean walls built from massive blocks of volcanic rock that you can perch for a breathtaking view. Nisyros has lush vegetation, volcanic slopes, sandy beaches, and rocky inlets. The classical architecture, picturesque taverns with traditional local recipes, and traditional coffee shops are a magnet that attracts. After a swim in a deserted bay, there is nothing better than trying mouth-watering Greek cuisine.
⚓
DAY
 6
: Nisyros

- Tilos (Overnight)
Tilos - A beautiful island for your yacht vacations
Explore Tilos on a yacht charter in Dodecanese islands. With picturesque villages and a rugged landscape, Tílos is a fascinating addition to the Dodecanese yacht charter through the stunning Aegean Sea. Tilos main harbor is bustling with a good dozen waterfront cafes and souvenir shops. Like all Greek islands, Tilos is naturally beautiful, with crystal clear waters, rising mountain peaks, and panoramic views of the beautiful Aegean Sea. If you are a nature lover, there are miles of trails through meadows, mountains, and green valleys to work up. The azure waters here also play host to monk seals and sea turtles. Several small Knights castles and some inconspicuous medieval chapels may attract you for a little between your relaxation. Explore ancient caves where the remains of dwarf elephants have been discovered and admire beautiful frescoes in the Byzantine churches of Mikró Chorió, then visit the Áyios Pandeleímon Monastery on the slopes of mount Profítis Ilías.
⚓
DAY
 7
: Tilos

 

- 

Rhodes (Disembarkation)
Rhodes - The Mediterranean gem with a centuries-old history
Explore Rhodes on a luxury yacht charter in Dodecanese islands. Rhodes is the largest island in the Dodecanese group, both in terms of size and in terms of population. Rhodes boasts awe-inspiring buildings from ages past such as the Palace of the Grand Master, the City Hall, and the Governor's Palace. The Old Town is a UNESCO World Heritage Site with many archaeological places of interest situated all over the island. These include several castles, palaces, temples, and the Acropolis of Lindos. There are long golden beaches to relax on, and small coves and bays to explore. Rhodes is laced, with ancient towns and glittering stretches of beautiful shorelines. Nightlife on this energetic island also attracts charterers and guests from miles around because of the many renowned bars and clubs that dot the island, particularly the streets of the old town. 
Create Your Perfect Itinerary
Have our travel experts suggest a unique itinerary according to your tastes, with a crew briefed and ready to meet your expectations. Luxury yachts and superyachts are ready for charter in Athens and Rhodes. So Let us assist you in planning your sailing itinerary so that you encounter the best of everything the Greek islands offer on a luxury yacht charter.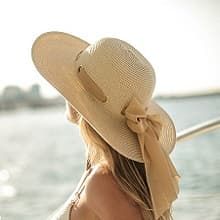 Yacht Rentals Greece Team
Our luxury travel experts will create a tailor-made itinerary of multi-destination in Dodecanese islands covering your every need. Luxury concierge and travel services, private tours, event & party planning, VIP access to events, and 24/7 concierge services.
Explore a small selection of Top Charter Yachts below.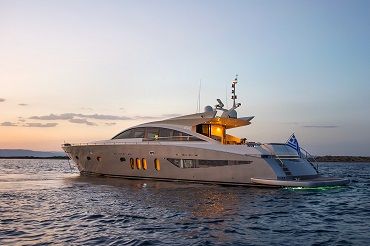 Sun Anemos Luxury yacht based in Athens is the ideal choice for a relaxing and comfortable cruise to Rhodes, Kos, and the Dodecanese islands! Weekly:9 guests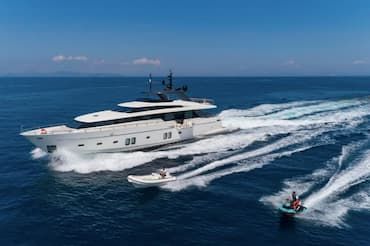 Dinaia superyacht offers a unique leisure experience for luxury superyacht charter vacations in Dodecanese islands! Weekly:10 guests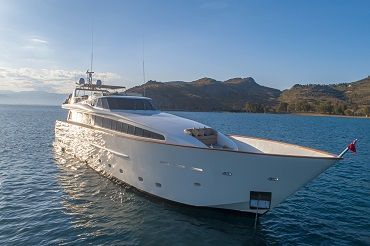 Aquila Luxury super yacht grants guests the ultimate comfort and luxury charter for multi-day cruises in Greece and the Dodecanese Islands! Weekly:12 guests
LUXURY YACHT CHARTER DODECANESE ISLANDS