Luxury Yacht Charter in Ionian Islands
The beautiful Ionio has characteristics that make yacht charter Ionian islands a magical experience. The Ionian Islands are famous for their dramatic sheer cliff beaches and the incredible color of the sea. You will be mesmerized by the turquoise sea, the fantastic dramatic coastlines, and the unique sceneries. Mythical history and magical beaches await you on the yacht charter to the Ionian islands. These incredible islands have a slightly cooler climate than much of Greece. Discover small caves and explore secluded bays, enjoy playing with the watersports toys in tranquility, and don't forget to take in some sublime sunsets. There are two areas to the Ionian, the north which is Corfu, Antipaxos & Paxos, and the south, Kefalonia, Lefkas, Meganisi, Atoko, Zakynthos, and Ithaca. A luxury yacht charter Ionian islands offers picturesque waterfront villages, crystal clear water perfect for swimming and snorkeling, secluded bays, and white sandy beaches.
TYPICAL 7 DAYS ITINERARY
⚓ DAY 1: Zakynthos - Fiskardo Kefalonia (Overnight)
Fiskardo Kefalonia - The historic harbor village of Kefalonia
Luxury Yacht Charter Ionian islands and explore Kefalonia and Fiskardo. Kefalonia is the largest of the seven Ionian islands, with approximately 365 villages. In town, Kefalonia has carefully preserved its history, and you will find more ancient ruins to explore and war museums, monuments, and regency exhibits that give life to the island's past. The island has many picturesque bays and inlets, ideal for mooring and accessible only by yachts. Anchor at the stunning Myrtos beach, which is known to be one of the prettiest coves in the world. Steep limestone cliffs topped with forest plunge to meet the white pebbled beach. For the island's unique attractions, Melissani Lake is an underground cave, and others such as Drogarati have roofs covered in stalactites that will impress children and adults alike with their eerie beauty. Fiscardo is the picturesque and beautiful Greek harbor village on the Northern tip of Kefalonia. Fiskardo is the only village in Kefalonia that has so many original Venetian buildings. Its waterfront is lined with luxury yachts, superyachts, and upmarket seafood restaurants.
⚓
DAY
 2
: Fiskardo Kefalonia

- Ithaca (Overnight)
Ithaca - The home of Odysseus
Explore Ithaca on a luxury yacht charter in Ionian islands. Among the Ionian islands and west of Kefalonia is Ithaca. A haven for private luxury yacht charter boats looking for picturesque Greek towns, sheltered anchorages, and a myriad of soft sandy beaches. Ithaca has stunning natural scenery consisting of pale rocky outcrops, verdant forests, and hidden lagoons. The Acropolis of Alalkomenes and Agios Dionisios Church showcases Ithaca's past and present. Imagine cruising along the crystal-clear waters, taking in the breathtaking landscape, and stopping for a swim in a secluded cove. Dexa beach and Mnimata beach are conveniently close to the marina at Vathy, the largest settlement on the island, and you can visit the pale blue waters at Gedaki Beach to the north for fun with the water toys. Scuba diving is a popular activity while on holiday in Greece, and superyacht charters with Scuba equipment on board, have the freedom to investigate the area's dive sites and wrecks. Ithaca is home to some of the most breathtaking views in the world, and what better way to experience them than by sailing around the island on your private yacht?
⚓
DAY
 3
: Ithaca

- Lefkas (Overnight)
Lefkas - A storied and historic island surrounded by the sparkling Ionian Sea
Luxury yacht charter Ionian islands and explore Lefkas. Lefkas is the best choice if you want to spend your holiday in a place with calm waters, breathtaking views, and lush landscapes. Most of the island, is occupied by a range of hills rising to a height of 1158 m in Mount Stavros and running southwest to end at Cape Doukato, at the tip of the Lefkas peninsula. These precipitous cliffs provide an impressive backdrop for several sandy beaches that are among the most beautiful on the Ionian Islands. Many small coves and off-shore islands make for a picturesque view and offer ideal conditions for yacht vacations. Mikros Galos is a popular beach with a choice of eateries and bars nearby. Agios Ioannis Beach to the north, with old windmills scattered along the coast, is one of the longest stretches of sand on the island. With an eye-popping tint of dazzling blue, Porto Katsiki isn't just one of Lefkas and Greece's most splendid beaches but is widely regarded as one of the best in the entire Mediterranean. The traditional elements of Lefkas, are perfectly interspersed with modern trappings such as diverse shopping options, dining experiences, and exciting nightlife entertainment.
⚓
DAY
 4
: Lefkas

- Sivota - Paxoi (Overnight)
Paxoi - The untouched jewel of the Ionian
Yacht Charter in Ionian islands and Paxoi. Paxos or Paxi (or Paxoi) are just south of Corfu on the northern side of the Ionian Sea. Paxoi is one of the smallest in the Ionian group of islands but one of the prettiest. Paxoi has traditional colorful homes, narrow alleys, and Venetian waterfront promenades. It is a local paradise with emerald waters, pristine beaches & mouth-watering food. Seafood is a star on the menu here, and you will find many waterfront tavernas serving up the fresh local catch of the day. Paxoi is a small island with only three villages, Gaios, Lakka, and Loggos. Gaios is the capital of Paxoi and the location of the main port. Gaios has quaint traditional neighborhoods and Venetian architecture. The Lakka is on the north tip surrounding a large harbor for yachts with narrow alleys and a waterfront square full of bars and tavernas. Finally, Loggos is a postcard fishing village with beautiful beaches. Marmaris Beach is shaded by olive trees which adds to its charm. Also nearby, are Kipos and Kipiadi & Monodendri. Also forming part of Paxi is Anti Paxi. Anti Paxi is a tiny island known for the most pristine, crystal clear, idyllic waters comparable to the Caribbean. The sandy beaches with shallow waters make it perfect for swimming. Grab a glass of wine and soak in the impeccable atmosphere of your luxury yacht as you watch, the warm glow of the sun go down.
⚓
DAY
 5
: Paxoi

- Antipaxoi - Corfu (Overnight)
Corfu - A popular yacht charter destination
Luxury Yacht Charter Ionian islands and Corfu. Corfu has everything that you would want to have from an ideal yacht charter holiday destination. Fresh green island terrain, flat and calm seas, safe anchorages, and hot weather. Luxury yacht charter in Corfu is the ideal way to make the most of the crystal clear waters, and the perfect option for those wishing to partake in watersports and swimming, or simply relax on board. Corfu has stunning beaches, a crystal clear sea, and a beautifully preserved Old Town, a UNESCO World Heritage site. Coated with olive groves, the lush island of Corfu is the second biggest of the Ionian Islands and is surrounded by a rugged coastline, with many fine sand beaches. The eventful history of the island has left its mark, with remnants of ancient times dotted throughout the towns creating heaven for those with an interest in architecture and history. Corfu's diverse history has led to a rich culture blended with French, Italian, and English influences. Visit the 400-year-old Mortiotissa Monastery sitting amongst olive groves, or the magnificent neoclassical Achilleon Palace. Esplanade Square is the largest and most impressive square. Filled with statues, and cloisters, and at the foot of the bridge to the fortress. Notable sights to see and places to visit include the ruins of Palaiopolis, which was an agora of ancient Corfu, and the Virgin Mary monastery in Panagia, which was built during the 16th century. Other important places to visit in Corfu are St. Michael and George's palace in the town of Corfu, which is the home of the Asiatic Art Museum, the Christian Art Museum, the Public Library of Corfu, and the Ionian Senate Archives. Relax on sandy beaches like Glyfada, Ermones, Sidari, and Kavos. The best beach in Corfu is Rovinia at the southern end of Paleokastritsa. Crystal-clear water and white sands shaded by concave rock formations make this secret spot a perfect choice for a peaceful afternoon. Corfu is awash with lush greenery and thriving wildlife, and a luxury yacht charter on a luxury crewed superyacht is certain to be a wonderful yacht vacation experience.
⚓
DAY
 6
: Corfu

- Porto Katsiki - Zakynthos (Overnight)
Zakynthos - The Flower of the East
Explore Zakynthos on a yacht charter in Ionian islands. Zakynthos, otherwise known as Zante, is the southernmost island of the beautiful Ionian Archipelago. The northwestern part of the island is dotted with barren mountainous peaks while the center is green and verdant, scattered with the blossoming flora that prompted the Venetians to give it its name "Fiore di Levante" (flower of the East). Arts, Language, Culture, and Religion have their special place on the island. There are museums open to the public to visit both in the city and in some villages of the island. Like every Greek island, Zakynthos is full of churches and monasteries. Most of the buildings were left intact by the devastating earthquake of 1953, and those destroyed were erected again at the same architectural rhythm, with the main characteristic of beautiful bell towers next to the churches, mainly at a Byzantine rhythm. There are tens of kilometers of beaches in Zakynthos, with the diversity of the landscape being the main feature. Sandy beaches with fine or thick sand, rocky shores, steep rocks, creeks, and caves. Close to the main marina on Zante, Agios Nikolaos Beach is one of the best on the island with its range of water sports available, or to chill out in the turquoise waters with your private yacht. A pole of attraction for thousands of tourists in Zakynthos is Blue Caves. Typical geological formations at the northern tip of Zakynthos have formed the famous blue caves, one of the most prominent sights of the island. Navagio Beach, with ice-white sand surrounded by towering limestone cliffs and impossibly blue waters, is iconic in its beauty and one of the most photographed beaches in the world. The island is also home to the protected area of Laganás Bay, one of the world's key breeding sites for the endangered Loggerhead Sea Turtle. Romanticism overflows in almost every place in Zakynthian nature. Sunsets in Zakynthos can be a memorable experience as the golden sun drops into the Ionian Sea, and you look at it from the privacy of your yacht.
⚓
DAY
 7
: Zakynthos

 

 

(Disembarkation)
OTHER SUGGESTED 7 DAYS ITINERARY (EMBARKATION LEFKAS)
⚓ DAY 1: Lefkas - Vathi (Meganisi) (Overnight)  ⚓ DAY 2: Vathi - Ithaca (Overnight) 
⚓ DAY 3: Ithaca - Fiskardo/Kefalonia (Overnight)  ⚓ DAY 4: Fiskardo - Vasiliki/Lefkas (Overnight) 
⚓ DAY 5: Vasiliki - Nidri/Lefkas (Overnight)  ⚓ DAY 6: Nidri - Lefkas/Marina (Overnight) 
⚓ DAY 7: Lefkas (Disembarkation)  
ANOTHER SUGGESTED 6 DAYS ITINERARY (EMBARKATION CORFU)
⚓ DAY 1: Corfu - Paxoi (Overnight)  ⚓ DAY 2: Paxoi - Nidri (Overnight) 
⚓ DAY 3: Nidri - Vathi/Meganisi (Overnight)  ⚓ DAY 4: Meganisi - Mourtos (Overnight) 
⚓ DAY 5: Mourtos - Corfu (Overnight)  ⚓ DAY 6: Corfu (Disembarkation) 
Create Your Perfect Itinerary
Have our travel experts suggest a unique itinerary according to your tastes, with a crew briefed and ready to meet your expectations. Luxury yachts and superyachts are ready for charter in Athens, Zakynthos, Lefkas, and Corfu to explore the Ionian islands. So, let us assist you in planning your sailing itinerary so that you encounter the best of everything the Greek islands offer on a luxury yacht charter.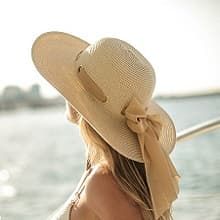 Yacht Rentals Greece Team
Our luxury travel experts will create a tailor-made itinerary of multi-destination in Greece and Ionian islands covering your every need. Luxury concierge and travel services, private tours, event & party planning, VIP access to events, and 24/7 concierge services.
Explore a small selection of Top Charter Yachts below.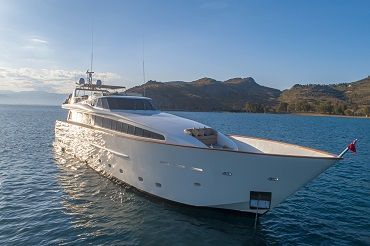 Aquila Luxury superyacht grants guests the ultimate comfort and luxury charter for weekly cruises in Greece and the Ionian Islands! Weekly:12 guests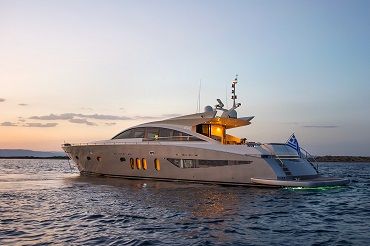 Sun Anemos Superyacht based in Athens is the ideal choice for a relaxing and comfortable cruise to Zakynthos, Corfu, and the Ionian islands! Weekly:9 guests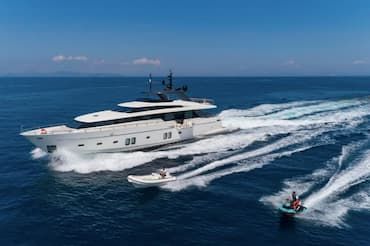 Dinaia superyacht offers a unique leisure experience to all her guests for luxury superyacht charter holidays in Greece and Ionian islands! Weekly:10 guests
LUXURY YACHT CHARTER IONIAN ISLANDS